Ventilated Bee Jacket – BUY NOW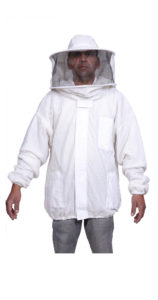 Ventilated bee jackets to keep you fresh – BUY NOW
Bee Attire is your one stop destination to procuring innovative jackets manufactured from using highest grades of cotton, polyester and mesh material. They are meant to provide high level of comfort and keep you relaxed all throughout the day. If safety and comfort is your priority, we take the initiative to keep you fresh, ultra safe and comfortable. So, when it is hot outside, you are cool inside. When you invest on a suit, you are actually investing on comfort and safety. We offer the best protective clothing to the beekeeper hobbyists.
Features of our ventilated bee jacket
If you are looking for the best protective clothing, choose only Bee Attire. The following are the features:
3-layer clothing to offer maximum protection. By using thick polyester and cotton material we prevent the tiny legs of the bees from reaching you. The jackets are perfect for hobbyists looking to avoid bee stings and stay cool. They feature maximum ventilation and offer utmost protection.
Bee friendly and breathable polycotton material
natural latex for ultimate safety and comfort
Metallic YKK zips for reliability and strength
Ultra visibility with clear view veil.
Advanced Ventilated Bee Jacket

By supplying Ventilated Bee Jacket, attire and accessories, we provide brilliant sting protection. They will keep you cool and allow the heat to escape. Each jacket is soft, comfortable and cosy. Three-layered jackets can completely protect you from the bee stings. Lightweight bee jackets facilitate easy movement. The material is strong and durable to last for years. There are three layers of poly-cotton to make the suit extremely durable and comfortable. The three layers are stitched together perfectly to give you ultimate protection.
Featuring incredibly super-fine and strong veil, ultra durable metallic YKK zipper, versatile patch pockets and reinforced sleeves, you can wear Bee Attire suits to protect yourself completely.
Call us now to learn more. – 001- 661-261-762 or Email Us at info@beeattire.com